Uncompromising, fast-paced and great to record
"The Violin Man's stopped playing, Jonnie boy," he said, as Jonnie raised his head and Jack squeezed gently on the hair trigger. "And he's not coming back."
Jack Calder is ex SAS. Originally from Glasgow, he has worked across the world for the Hereford based group.
When he demobbed, Jules Townsend, his old major, recruited him into his young security company, ISP, working for international companies who need the specialist expertise of these highly trained officers.
Now, I am recording these action-packed novels written by Seumas Gallacher as audiobooks, in my native, deep, London accent.
The Violin Man's Legacy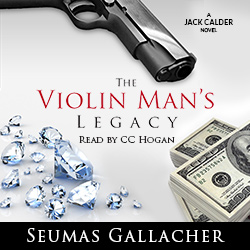 OUT NOW
A thriller with bloody twists and turns as ruthless killers meet their match in a former SAS hit squad.
Jack Calder is an ex-SAS soldier working with former colleagues at ISP, a specialist security firm. He is sent to investigate a murderous diamond heist in Holland but swiftly learns that there is a very strong Far East connection. He then travels to Hong Kong where he meets the glamorous chief of ISP's local bureau, May-Ling.
Together they begin to unravel a complex web of corruption. The twin spiders at the centre of this web are the Chan brothers, leaders of one of Hong Kong's most ruthless and powerful triad gangs.
The trail of death and mayhem coils across Europe, Hong Kong and South America until all the scores are settled.
Audible UK - Audible US - Audible FR - Audible DE - Amazon CA - iTunes UK - iTunes US
Sample
Look out for more titles in 2018!