Privacy
By using this site, you agree....
Oh, to hell with that. I will put the long version down in a minute. But here are the basics:
We use cookies to track how many visitors we have and some of the advertisements on the site use them as well. I won't stop you using an ad blocker, but if you fancy being nice to me, don't turn it on.
There is no membership here, so we won't be collecting any info off you that way. However, there is a newsletter which will open you up to both food and writing news from CC Hogan. It doesn't happen often.
The comment system is run by Disqus and allows you to login with Facebook, Twitter, Google and so on. They control all that stuff; I don't.
I am setting up the odd affiliate bits with people like Amazon for any products I promote on the site.
If anyone ever gives me something in return for reviewing it, I will let you know. I am not going to promote or review things I don't like, so don't expect bad reviews.
So, here is the standard blurb...
This privacy policy sets out how cchogan.com uses and protects any information that you give cchogan.com when you use this website.
cchogan.com is committed to ensuring that your privacy is protected. Should we ask you to provide certain information by which you can be identified when using this website, then you can be assured that it will only be used in accordance with this privacy statement.
cchogan.com may change this policy from time to time by updating this page. You should check this page from time to time to ensure that you are happy with any changes. This policy is effective from March 2017.
What we collect
We collect your name and email address through our newsletter form which is supplied by Mail Chimp. Your information is kept on their servers and not on ours. We do not collect any information directly or keep it on our own web server.
Security
We are committed to ensuring that your information is secure. In order to prevent unauthorised access or disclosure, we have put in place suitable physical, electronic and managerial procedures to safeguard and secure the information we collect online. 
How we use cookies
A cookie is a small file which asks permission to be placed on your computer's hard drive. Cookies help analyse web traffic or lets you know when you visit a particular site. Cookies allow web applications to respond to you as an individual. The web application can tailor its operations to your needs, likes and dislikes by gathering and remembering information about your preferences.
We use traffic log cookies to identify which pages are being used. This helps us analyse data about webpage traffic and improve our website in order to tailor it to customer needs. We only use this information for statistical analysis purposes and then the data is removed from the system. We use Google Analytics to collect and analyse this information. Google does not collect information such as your name or other personal data.
You can choose to accept or decline cookies. Most web browsers automatically accept cookies, but you can usually modify your browser setting to decline cookies if you prefer. This may prevent you from taking full advantage of the website.
We, along with third-party vendors such as Google use first-party cookies (such as the Google Analytics cookies) and third-party cookies (such as the DoubleClick cookie) or other third-party identifiers together to compile data regarding user interactions with ad impressions and other ad service functions as they relate to our website.
Opting out: Users can set preferences for how Google advertises to you using the Google Ad Settings page. Alternatively, you can opt out by visiting the Network Advertising Initiative Opt Out page or by using the Google Analytics Opt Out Browser add on.
Google Adsense
We use Google AdSense Advertising on our website.
Google's advertising requirements can be summed up by Google's Advertising Principles. They are put in place to provide a positive experience for users. https://support.google.com/adwordspolicy/answer/1316548?hl=en 
Google, as a third-party vendor, uses cookies to serve ads on our site. Google's use of the DART cookie enables it to serve ads to our users based on previous visits to our site and other sites on the Internet. Users may opt-out of the use of the DART cookie by visiting the Google Ad and Content Network privacy policy.
Affiliate links and advertising
From time to time we link to products and services supplied by third party companies. For some of these, such as Amazon, we get paid a tiny commission.
cchogan.com is a participant in the Amazon Services LLC Associates Program, an affiliate advertising program designed to provide a means for sites to earn advertising fees by advertising and linking to amazon.co.uk.
Our website may contain links to other websites of interest. However, once you have used these links to leave our site, you should note that we do not have any control over that other website. Therefore, we cannot be responsible for the protection and privacy of any information which you provide whilst visiting such sites and such sites are not governed by this privacy statement. You should exercise caution and look at the privacy statement applicable to the website in question.
Controlling your personal information
We will not sell, distribute or lease your personal information to third parties unless we have your permission or are required by law to do so. We may use your personal information to send you promotional information about third parties which we think you may find interesting if you tell us that you wish this to happen.
You may remove your details from our newsletter at any time by clicking on the link shown at the bottom of the newsletter.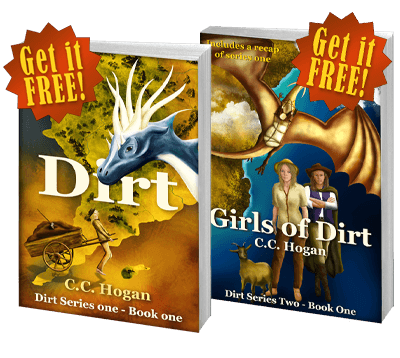 Series One & Two are out now!
Start series one with Dirt for Free, and start reading the brand new series two with Girls of Dirt for only 99p!
Girls of Dirt includes a recap of series one.
The Stink Is Here
North London, 1976. The longest, hottest summer on record. The water is running out and the kids hate their parents. Which bunch of idiots would think it is a good idea to start a band?