We are always so rushed to do everything, but just occasionally, it is nice to spend time doing something slowly, lovingly, and selfishly!
This here is my best ever chicken curry. It is very, very Indian and there is not a hope you will find this in an Indian Restaurant. So if you want this perfumed beauty, then you will have to put some time aside to make it for yourself. (Or if you are blonde and gorgeous, pop round and I will cook it for you!)
I am doing this in three stages: The Spices and marinade, the curry base, and the final cook.
This recipe was for six large chicken thighs, skin on, bone in!
Curry Paste
I am making a curry paste which will be used both to marinade the chicken thighs and also will be used for the curry base. 
You can do this either in a spice grinder or, as I am doing, by hand in a pestle and mortar. We need to start with the whole spices:
2 tbsp whole coriander seed
2 tbsp whole cumin
1 tsp fennel seed
1 tsp black pepper
1 tsp poppy seeds
1/4 stick cinnamon
1/2 tsp cardamon
1 tsp yellow mustard seed
Heat up a heavy frying pan and roast the spices slowly in the dry pan for a few minutes. Remove from the heat.
In the pestle and mortar grind up the following.
3 cloves garlic
1cm cube of fresh ginger
5 chopped green chillies (I like the hot ones)
1 tsp sea salt
The salt will help mash up the ingredients.  Once they are at least partly crushed add the roasted spices and grind to a paste. Use the juice of 1 small lemon to help it on its way.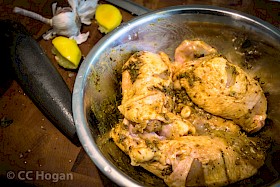 Then add about a 1/4 cup of groundnut oil (unless you are allergic in which case choose another oil) and keep working the ingredients till you have a wonderful paste.
Take half of the paste and rub it into the chicken thighs. Keep the skin on for this recipe, if you like, but score the thighs heavily.  Cover with cling film and put in the fridge. You can do this part several hours in advance or even the previous day if you want it very well marinated!
The Curry Base
Wander back into the kitchen about an hour or so before you want to cook the final dish. Remember, you are meant to be enjoying this, so take you time. Clear your counters, put on some blues, have a beer. This is "me" time - love it!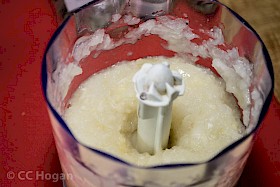 This base is common to a thousand and one curries out there. It is what makes a curry distinct from a stew. Remember, curries are fried dishes, even the wet ones!
1 large white onion
1 2cm cube of ginger
3 cloves garlic
5 green chillies
Put the onion, ginger and garlic into a food processor and blitz until you have a purée. Depending on the onion, you may need to add a splash of water to help.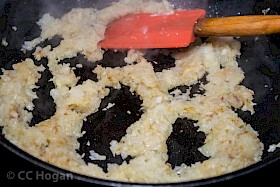 Take a large, heavy, frying pan. Curries cook best in open pans. If you cook them in a saucepan, especially with a lid, you will get a spicy stew - not the same thing at all.
Bring it up to a medium heat and add 3 or 4 tablespoons of groundnut oil. Yes, I know it is a lot of oil, but that is a curry for you! 
Add the purée and fry very slowly for around ten to fifteen minutes till the water has evaporated and the onions are just beginning to turn brown.
Take your time with this. The objective is to break down the onions properly while evaporating off all the water. In other curries, it is this that produces the thickness!
Once you are happy, add the remaining curry paste you made earlier.
Now, be careful. At this point it might stick, so keep stirring and keep the heat low.
After a couple of minutes, add half a cup of water and an optional handful of chopped green chillies (complete with seeds!)
Continue frying slowly till the water has almost completely evaporated and then remove from the heat and set it aside. 
Now, go get another beer, clean up the kitchen and chill out for a while.
The Final Cook
This is when we have the fun of putting it all together. The only additional ingredients you will need are:
1 large courgette, chopped up
A handful of chopped mushroom
1 small red pepper, also chopped.
1 tin coconut milk
Heat your oven to 200°C. Put the chicken thighs into a baking tray and cook until fully done and the skin has a nice roasted quality to it! This takes about half an hour, depending on your cooker.
To be honest, you can ignore the rest of the recipe and just eat them straight out of the oven, but we are cooking a curry here!
Bring the curry base back up to a medium heat and add the chopped veg. Cook slowly, stirring from time to time, till the veg is tender. You may well need to add a half cup of water to hep this along. Again, you don't want to burn it!
Open your can of coconut milk, but DO NOT SHAKE IT!
We want the thick cream that rises to the top of the can as a solid lump, not the water that settles at the bottom.
Spoon out this thick coconut milk carefully into the frying pan and stir it in gently.
Keep the heat low, just a little bubble, as otherwise it will all turn to mush, which we do not want.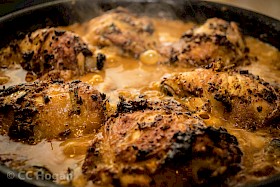 Right, we are getting pretty close to the end now!
Once the chicken is cooked, remove from the baking tray and lay into the curry. Just let it sit on top. You may want to drizzle some of the gorgeous oil from the roasting, but not too much - it will get too oily!
Let this cook for another ten minutes, just to allow the two parts of the curry to bind nicely.
And that is it! 
You can serve this with anything you like, but this is a really strong, rich, wonderful dish, so I just served it with a tomato and spring onion salad with lemon juice, chilli and salt. Didn't even need rice.
Magic!