Flatbread comes in all shapes and sizes, though I admit that being flat is probably a given. It is something I knock up from time to time, cook in a pan and then freeze. It warms up easily and it useful to have kicking around.
My preferred version is a leavened bread that owes a lot to the naan - it has yoghurt in it. I often do this without measuring anything, so I had to dig around in my archives for this recipe. 
This is something that here in the UK we just don't do. The Indians, Bangladeshis and Pakistanis do it, the Greeks and Turks do it,  the Spanish and their Latin American friends do it and even the Swedish do it. But we just don't. In fact not only don't we do it, we don't know anything about it.  I have read several articles over the years that say Pita bread is unleavened – which it aint! It is made with yeast.
So, this is roughly how I do it. This makes a good quantity.
Ingredients
700 grams strong white flour
350 ml warm water or milk, or a mixture
15g fresh yeast or two tsp dried active - or whatever you use! 
2 tbs olive oil
1 cup plain Greek yoghurt (Total Greek strained, not that horrible "greek style" crap)
1 tsp salt
More virgin oil for kneading
Instructions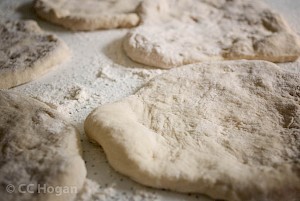 Crumble your yeast into the warm water. If you are using dried active yeast, then add a tablespoon of sugar to get it going and leave it to froth up.
Put the flour in a large bowl or in your mixer bowl. In the kenwood you can just add the rest of the ingredients and then turn it on to "1" for about five minutes.
Without a mixer, make a well in the flour and pour in the yeast/water. Add the other ingredients then stir them all together with a big spoon.
Once well mixed, flour your hands and get stuck in. Knead in the bowl till smooth. If you don't have a very big bowl, you can do this on a CLEAN counter top – but you get to clear up! This is quite a wet mix, so kneading heavily might be tricky.
Note: Because this is for rough, flatbreads, you don't need to be as fussy with the mixing as you would for a loaf.
Once everything is mixed and kneaded, put in an oiled bowl, cover with a cloth and let it rise for an hour or two - till it doubles in size.
Put a big slug of olive oil onto your work surface and turn out the dough. Knock it back and knead till all the oil is absorbed. Can take a bit of work this, and it will be frustratingly greasy for a while.
Let it rest for ten or twenty minutes.
Flour your table heavily and chop the dough into handy sized lumps. I will let you decide how big you want these!
Hand stretch your breads into shape. Do not roll them out as you will knock the air out. This is more fun anyway, especially if there is a bunch of you. FLOUR FIGHTS!
Let the breads sit for a while till they rise a little - just ten minutes or so.
Put a heavy duty frying pan on your stove and let it heat up – no oil! You need the pan pretty hot, but maybe not full heat. Experiment with your stove.
Cook the breads for just a short while, turning once, letting them fluff up. Take them out when they are just cooked but are still soft. Wrap them up in a tea towel as they are finished.
And that is it.
They keep quite well because of the fat content and freeze well too. You can even reheat in a microwave!
Use them either to tear up or, better still, fold them over and use them as a wrap. Ham, tomato and olive oil is about perfect! 
Have fun.